Could Fed Regret It Later ?
来源: | 发布时间:2021-01-19 02:34
09.20.2019  Fri, Sunny, Air Polluted
Could Fed Regret It Later ?
Summary: BOJ和BOE如期传递鸽派信息,提振欧美风险资产。EU对如期达成脱欧协议则提振GBP 至两月高点。
EU
Asia bourses traded mixed while HSI underperformed the region. A share saw a good opening and managed to close higher led by HUAWEI related stables on the latest releasing Mate 30. Just as the market well expected, BoJ leaves policy stimulus unchanged, calls for re-examination of inflation and growth at its October meeting. To be noted, USDJPY slumped badly during Tokyo session on the illusion could do something else in the style of Fed. But Kuroda did deliver decently dovish tone at Q&A; which help USDJPY rebound sharply at the moment A share left us.
EU stocks markets gapped higher while most EGBs were in offer tone since USTs were sold off after EU cash market closed at previous midnight. The markets smelled a little of sense after Iran's Zarif speaking to CBB threatens ' all out war' in case of military strike on Iran. But at 7:00, BOE deliver as dovish as possible far beyond what the market expected by stressing inflation may be weaker than expected if the uncertainty surrounding Britain's departure from EU. Carney highlighted BOE would cut interest rates to "a little above 0%" if economic conditions required it. EGBs were highly boosted along with USTs
As to Brexit, Macron and Finnish PM Rinne agree that UK must present a written proposal for a deal by Sep 30 to avoid hard Brexit, What's proved to be pivot that shortly after the midnight, Juncker said he believes the EU and UK can reach a deal by the Oct. 31st Brexit deadline, and that if the objectives of the backstop are met through alternative arrangements, then the Irish border backstop may not be needed. These comments sent GBP/USD to its highest levels since July.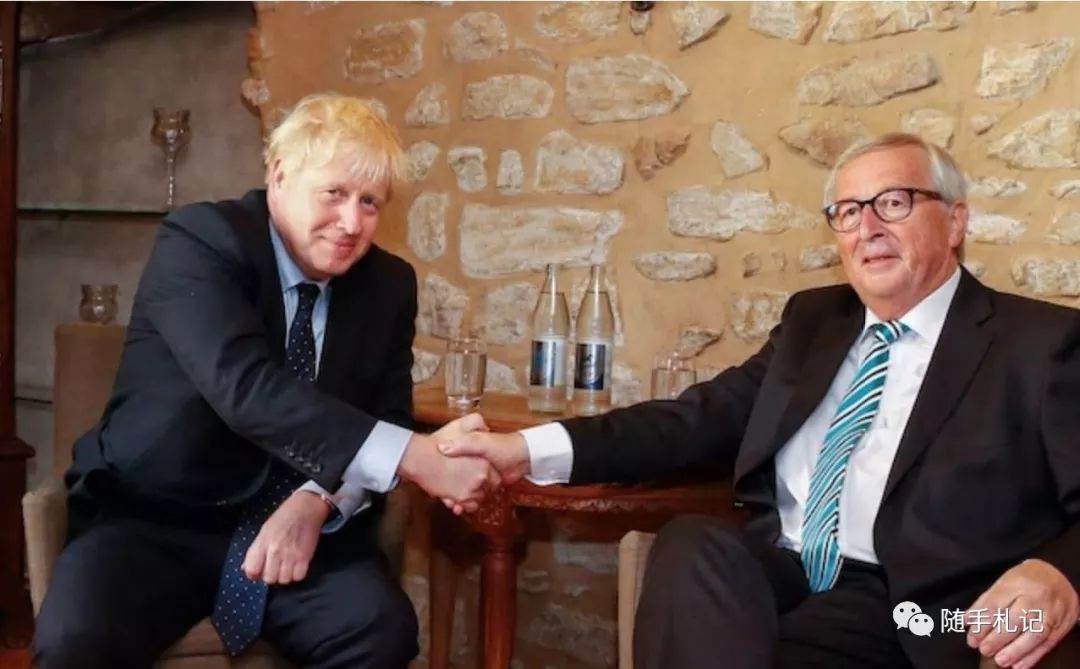 As to ECB, Coeure says fiscal policy is needed to take burden off monetary policy.
data
4:30, UK Aug retail -0.2% vs 0.0%, prior 0.2% up to 0.4%
US
The bid tone triggered by Carney faded more or less as a series of US prints turned out to be as 'not so bad'. Both Phily and Leading index slowed down , but proved to be better than consensus. Heave issuance totalling 13 bn IG corporate, poor liquidity and the hope of Brext deal pushed up the yields mildly in a short range after the midnight. US equities traded weak as gapping higher and trending all the way down to the close.
NY Fed announced it will conduct a repo operation tonight for the fourth straight day. The operation will be conducted with primary dealers for up to an aggregate amount of $75bn(53.2, 73.2, 75)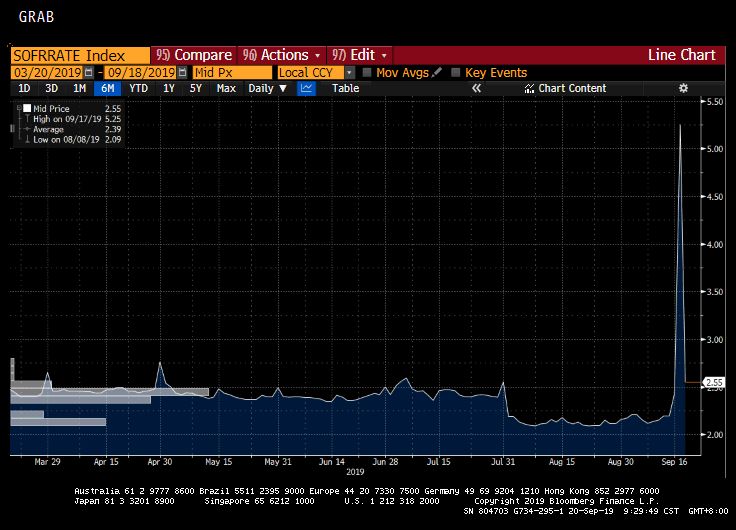 12bn 10yr TIPS at 0.174%, stopping through 1:00 WI level by 0.4bps. Dealers were awarded 17.3%, direct bidders 16.3%, and indirect 66.4%.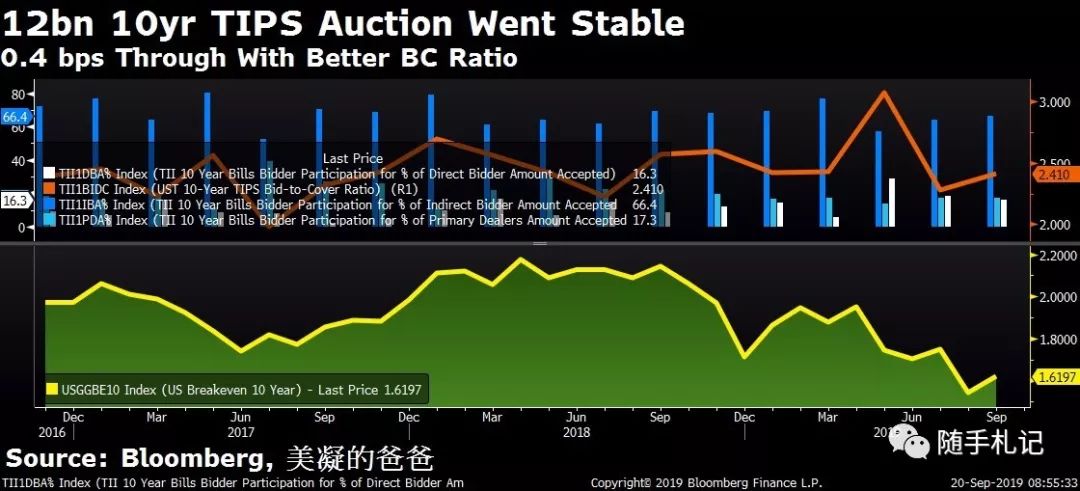 data
8:30, US q2 current account -128.2bn vs -127.4, prior -130.4 down to -136.2
Philly Fed Sep 12 vs 10.5, prior 16.8
initial jobless claims 208k vs. 213k prior 204k up to 206k
10:00, US leading index Aug 0.0% vs. -0.1% , prior 0.5% down to 0.4%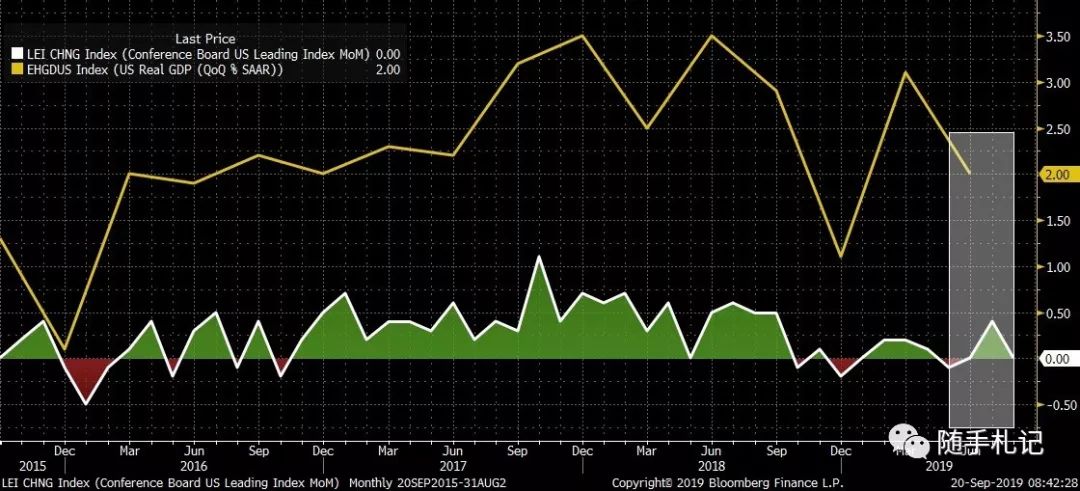 Existing sales 1.36% mom vs -0.7%, prior 2.5%
events
DEU PPI
EMU consumer confidence
CAN Retail
Williams, Rosengren, Kaplan speaks
comments
FOMC really believes in the "we are great; consumer will save us again etc" thing. And divided Fed after split ECB (Germany , France and Finland objected to ECB cut decision officially last week) did scare the market as we saw JPY spike yesterday ahead of Kuroda's press conference. But US is telling us something else. In US, there is a significant equity wealth effect on consumption and corporate investment: this will force FED to react to falls in the equity market. The reading of this notes is so poor and some friends told I'd better write in Chinese. No, I can't. All I can tell you here is trade friction is never far away from us. Ren Zeping, as the former officer of PBOC, has wrote a lot of things about the worst scenario. Highly recommend!It's not clear how he can go published. Once I write a single word, the series could be prohibited forever. Fed seems in no rush to move 'ahead of the curve' but the door remains open for further rate cuts and the BoJ may join global easing next month. The downtrend yield is actually driven by two legs, first its global economy's structural issues, second it's trade friction.
1、今早收到最大一笔打赏,100!谢谢这位NIck同学
2、红旗造跑车了!谁是HS7的车主,说说感受呗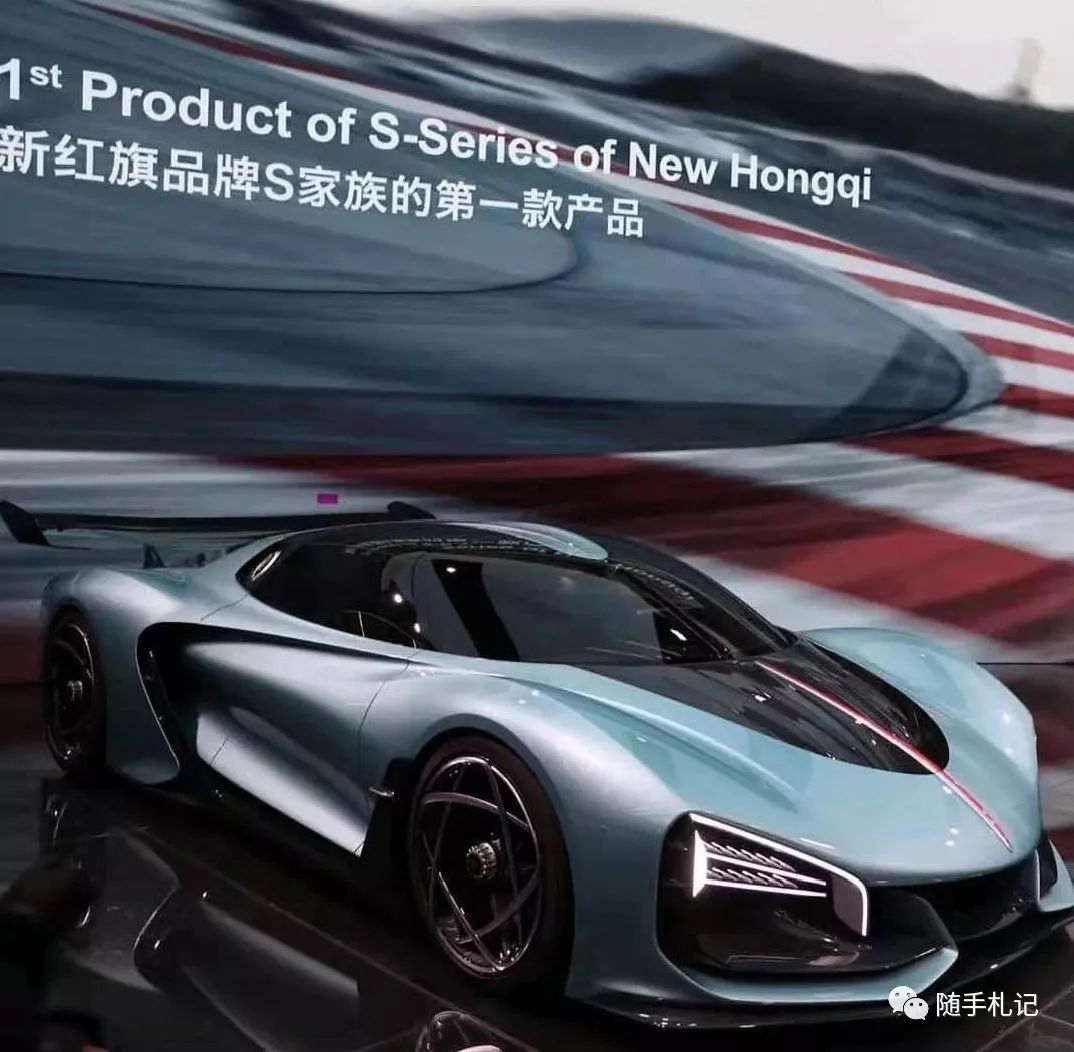 3.Mate 30发布了!赞麒麟990. 偷偷问一下,youtube和谷歌地图怎么解决的?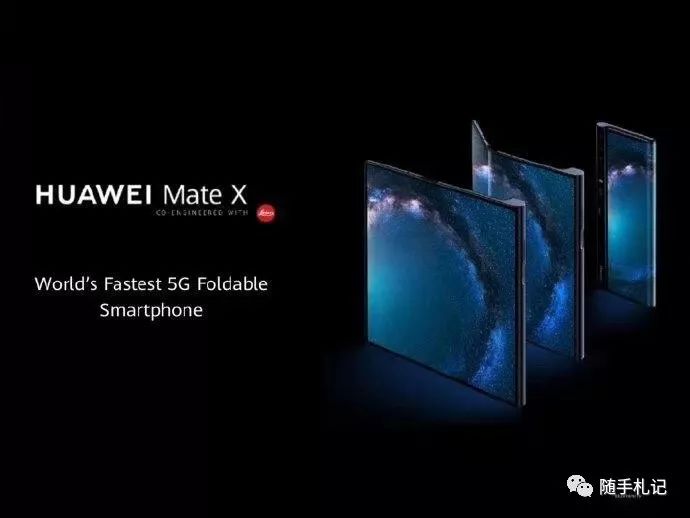 4
Policy Uncertainty and Bank Mortgage Credit
译名:政策不确定性和银行抵押贷款
作者:Gazi I. Kara and Youngsuk Yook
链接:https://www.federalreserve.gov/econres/feds/files/2019066 pap.pdf
行业监管,货币和贸易政策等都会因政府或领导权更迭而改变。金融行业又是一个高度监管的行业,受政策不确定性影响显著高于其他非金融行业。传统上抵押贷款是银行贷款重要形式,其规模大小和发放难易程度都对金融稳定性有显著意义。这篇论文就是研究政策不确定性对银行抵押贷款决策的影响。理论上当银行面临政策不确定性时的确会减缓贷款发放政策,但实际上这种不确定性对于贷款的供需双方都会发生作用,或者说至少是供需双方共同作用的结果。其次经济下行周期本身就会带来政策的不确定性,不确定性和银行投资决策天生就有内源性倾向,很难说谁影响力谁。所以,要分离出不确定性和投资决策之间的计量关系需要发展出对政策不确定性的外生性度量。
作者认为他研究的创新之处在于:一是创造性应用了绝密的监管数据HMDA(Home Mortgage Disclosure Act)中每日的逐笔抵押贷款信息;二是将美国州选举这一事件选为外生性政策不确定性作为因子进行了相关研究。作者认为州领导权变更可能导致包括州税收,补贴,预算和采购等政策变更,继而对那些总行设在该州的银行的投资决策产生影响。因为这些选举日期法律规定,和经济状况独立,而且各州间的这种日子都不一样,这就为作者独立出经济周期的影响创造了条件。在具体实践上,作者主要是同时比较了一家银行在总部所在州和其他州的投资决策,排除了需求方变化对房贷数量的影响。作者还比较了州银行和全国银行两类的投资行为,发现的确是州银行受影响更大。作者还特别关注了参选各方得票接近情形下的比较,的确也存在着竞争越激烈,银行信贷受影响越明显的现象。具体方法就是通过虚拟变量,不断变换样本容量,经过多重验证,作者认为自己做出的结果经得起检验。
近期重要时间点:
9月10日-10月14日,英国议会休会
9月18日,FOMC
9月26日,FTSE Russell 宣布中国,马拉西亚和以色列股市评估结果
10月14日,UK可能大选
10月21日,加拿大大选
10月30日,FOMC
10月底,脱欧截止日
11月,美欧汽车关税谈判
11月15日,SPACE-X载人龙飞船发射
11月16-17日, APEC峰会
11月19日,HUAWE第二次临时销售许可到期
12月11日,FOMC
12月15日,10%关税
12月,欧美汽车关税谈判终止
2020年11月3日,美国总统选举
Appendix:his t overnight  (部分)
数量有所减少,就是有一条提到了和FB总裁的会面很成功~~
Disclaimer:This material was prepared in private name and out of pernaonal hobby,definitely based upon facts and robust analysis with delicate consideration of highly professionality.But with no means to conduct any trade , and before using the contents of this note in any internal or external communication, please ensure you are comfortable and fully aware this could not be sufficient enough as any action base.
Up till now, Subscribers have amounted to 5945!